Located in one of the poorest neighborhoods in Des Moines where more than 40 languages are spoken and more than half of patients struggle to afford health care, Broadlawns recognized a need to build a workforce that reflects the diversity of those it serves and gives job opportunities to residents.
Since 2018, the T.E.A.C.H. program has supported adults with barriers to employment in becoming Certified Nursing Assistants (CNAs). To date, 49 adults and 29 high school students have spent 12 weeks learning about Broadlawns' culture, career paths, and work skills, and then completed their basic and advanced CNA training. The participants get paid a base salary as they go through the program and receive an increase at program completion as they begin CNA employment.
Broadlawns' program is unique in that it provides members in their community an opportunity to develop skills in a high-demand sector. Once program participants receive their CNA, they become highly employable. Even if graduates don't stay with Broadlawns, they gain skills to access more job opportunities, says Human Resources Manager Lindsay Fett. Those who stay also have a chance to advance in their careers.
Here are a few key components that have made the Broadlawns program successful:
Commitment from the top
The program started when Wayne Ford, founder of Urban Dreams, suggested to Jody Jenner, CEO of Broadlawns, that they visit John Hopkins to see how the hospital had engaged its neighboring community. The trip affirmed Broadlawns' mission of being a community leader.
"We look at Broadlawns as the anchor for the north side," says Jody on Iowa Job Honor's video recognizing their work.
"That inspiration, that commitment came from the top," says Lindsay. "With the time and resources we've devoted to the program, it's changing lives in our community. Some days are difficult but with the commitment of our leadership we continue to build on our success."
Lindsay also has seen how the T.E.A.C.H. program has increased employee engagement among staff as nursing directors and other staff support program participants through mentorship and encourage graduates to pursue more education.
Preparation before technical training
To enter the program, Program Coordinator Dennis Henderson completes an initial interview to gauge a person's readiness before the formal interview. "It's a way to find out if people really want to get involved in the CNA, because it's not an easy job," he says.
After joining the program, the class spends about two weeks job shadowing several departments to understand Broadlawns' culture and what career opportunities exist in the hospital. Program participants also receive professional development that includes teamwork, being on time, and how to handle various scenarios—skills that may be new to participants. Through preparation, participants understand that with a positive attitude throughout the program opportunities are plentiful.
A coordinator role to provide ongoing support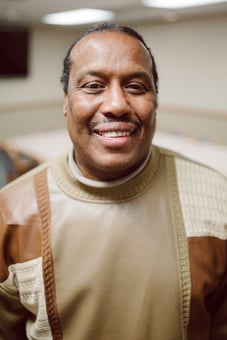 Dennis Henderson
Having Dennis in the coordinator role allows Broadlawns to establish relationships with community organizations to identify candidates with barriers to employment (criminal backgrounds, single parents, transportation, etc.). Dennis will connect with as many as 50 candidates for 10 spots in each class. With the assistance of a Program Coordinator, Broadlawns can determine the best candidates for the program and how to assist with their barriers to employment.
Dennis says once participants start the program, they can get bogged down with life issues that put them at risk of dropping out. In one case, a participant's water was turned off and they were about to lose electricity, but Dennis helped them apply for services and continue to focus on their training. Central Iowa HealthWorks, a United Way initiative, has provided support for T.E.A.C.H. participants to help address these small emergencies, as well as access transportation and child care.
Dennis also works with graduates during their first year of employment to address any challenges they may face that could affect their work or cause them to leave.
Continue to evolve the program
Recognizing common challenges has led Lindsay and Dennis to add the soft skills education up front and to extend Dennis' support to participants for a year after they graduate. Broadlawns has also changed the time and days that classes are offered.
"This program is a learning experience for everyone," Lindsay says. "Broadlawns couldn't have been this successful without the support systems and partnerships in place."
Broadlawns hopes to continue to offer the course four times a year for 10 participants in each class with DMACC providing the CNA instruction. The hospital also is looking at how to maintain funding, especially with a Central Iowa HealthWorks grant set to expire that generally covers costs for tuition, equipment, scrubs, transportation, and exam fees.
"Despite the sometimes difficult days, what keeps everyone going is the impact we're having our individuals in our community," says Lindsay. "The graduation ceremony brings it all together; Broadlawns, our community partners, graduates, and their families all celebrating their accomplishments, often with tears shed. They are employed, able to pay their bills, supporting a family, and know that this is just the beginning."
Several graduates working in CNA roles are now considering the next step in getting more education to advance their careers. Other graduates are using their skills at other organizations.
"It's about developing your community," says Dennis. "Even if it doesn't work out with Broadlawns, they had the opportunity to learn a skill that's going to allow them to move into a livable wage situation."
Broadlawns encourages more employers to develop similar programs with untapped candidate pools. "It just feels like the right thing to do." says Lindsay.
Build your Thriving Workforce

Innovative recruiting strategies and training programs can help your organization increase diversity in the workplace and be a community partner. Find more workforce planning strategies here: