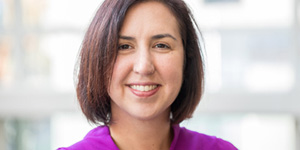 The following blog was submitted by the November Powered by Purpose guest speaker, Sara Davis.
In 2016, my dad passed away. This hit me particularly hard - harder than any other loss I'd experienced up to that point and for many layered reasons. Mainly, I lived far away from my parents for many years, and I didn't see it coming. Even though he was weakening from his leukemia diagnosis, I could not imagine a world without my dad in it. He was such a force of life. And aside from the primary loss (his death), I was mourning the secondary losses, like the milestones he'd never be there for and the constant cheerleading he'd always done from the sidelines of my life.
My dad was a strong advocate for community work, and though I didn't know it at the time, he was working through me in some ways—to connect me back to the core of who he was and who I am. I walked the Camino de Santiago de Compostela route in Spain to spread his ashes. I walked for him, but I found myself opening up with other pilgrims about my story and grief. I was leading with vulnerability for the first time in my life. As a result, I found myself starting to heal and formed deeper connections with those around me.
Read More