You care about helping people who are struggling in our community. We do, too.
One in three central Iowans struggle to pay their bills, put food on the table, and cover the rising costs of health care, child care, and transportation. Many families are working full time and still not earning enough to cover what they need to survive. They are forced to make painful choices—to go without or go into debt.
OpportUNITY invites you and everyone who cares to join us in the fight against poverty.
Together we can support our neighbors, our coworkers, and our child's classmates. We need everyone playing their part to implement our community plan, so that central Iowa is a great place for everyone who lives here.
Fill out the form on this page to receive updates on how poverty impacts central Iowans and opportunities for you to take action.

Sign up to receive action alerts about poverty and how we can tackle it: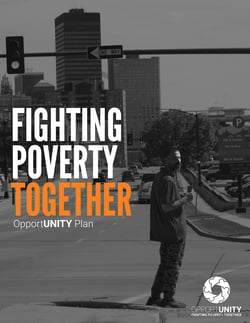 ---
Fighting Poverty Together
OpportUNITY is a community action plan focused on helping more central Iowans achieve financial stability. We are driven by the belief that:
Poverty and barriers to financial stability prevent central Iowans from thriving in our community.
We can, through collective action, eliminate these barriers and reduce poverty.
Change cannot happen without ALL OF US. We need you to advocate, educate, participate, and communicate.