Community Income Goal: To increase the percentage of central Iowans who are financially self-sufficient to 75% by 2020.
One out of every three families in central Iowa can barely cover basic daily expenses. And low wages force many families to go without—or to go into debt. In today's economy, families need enough income to cover rising costs of food, housing, health care, transportation, childcare and clothing—or face painful financial choices.
One of the clearest paths to economic self-sufficiency is education and training. Job training and readiness programs remain critical to advancing low-wage, low-skilled workers into self-sustaining jobs (UW Metrics report, p. 24). United Way and its community partners work to strengthen central Iowans' education and skills to prepare them for the better-paying jobs in the local economy.
Income Focus Area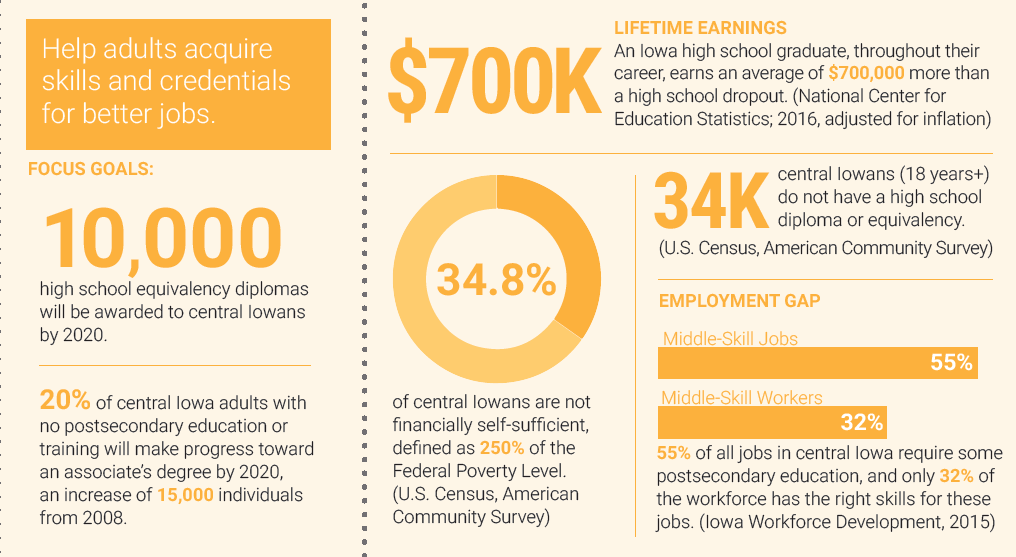 I
ncome: What's Working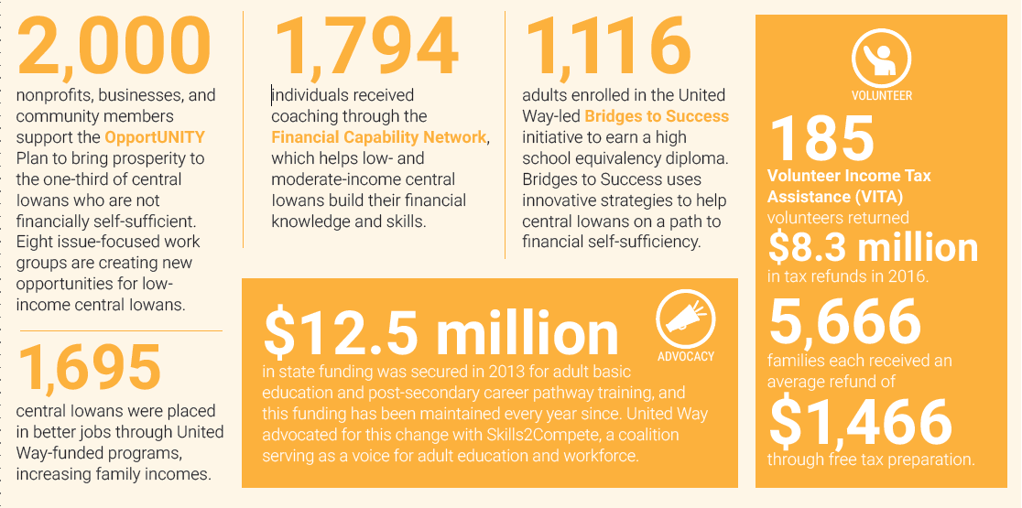 Who is ALICE?
With the cost of living higher than what most wages pay, ALICE families – an acronym for Asset Limited, Income Constrained, Employed – work hard and earn above the Federal Poverty Level (FPL), but not enough to afford a basic household budget of housing, child care, food, transportation, and health care. ALICE households live in every county in Iowa – urban, suburban, and rural – and they include women and men, young and old, of all races and ethnicities.
The study and report reveal key statistics around Iowans in need, including detailed analysis by county. Click the image of the report to access the Executive Summary or the full report.

OpportUNITY: Creating Prosperity for All is a community-driven approach to reduce poverty in central Iowa by 20 percent by focusing on:
Education and employment readiness
Housing, homelessness and transportation
System and policy changes for new Iowans and those facing the child care cliff effect
Food insecurity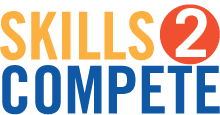 Skills2Compete is a coalition serving as a voice for adult education and workforce advocacy that helps increase financial stability for working families to grow Iowa's economy.
Financial Capability Network
The Financial Capability Network is located at Evelyn K. Davis Center for Working Families, and provides low to moderate income individuals and families a pathway of financial literacy and financial inclusion that leads to financial stability. Implementation of the program expands participants' knowledge and develops the skills necessary to help them understand their financial situation in addition to motivating them to take action.