of parents receiving child care assistance work, but a raise of just 15 cents an hour can put them in jeopardy of losing these benefits.
Iowa Department of Human Services


percent of people in central Iowa are refugees and immigrants. Many work in lower-wage jobs.

U.S. Census Bureau


is the median household income for all of Polk County vs. $26,725 for African-Americans in Polk County.

Iowa Workforce Development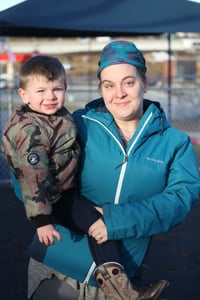 Kelly Dejoode was panicking. She had just received a letter saying she would no longer receive Child Care Assistance from the state. She was going to drop off the so-called "Child Care Cliff." Without assistance, Kelly would go from paying $17 a week for her three-year-old son Jaxson to attend Oak Academy full time to paying $180 a week. Her wages—a little more than $13 an hour—as a teaching assistant in a Head Start classroom couldn't cover the increase as well as her family's other basic needs, including rent, gas, and food.
She didn't realize that by starting to work full time, she would be pushed over this cliff. "Things were starting to go really well," she says, "and then boom, that happened."