Community Education Goal:


Increase the percentage of central Iowa students who graduate from high school to 95 percent by the year 2020.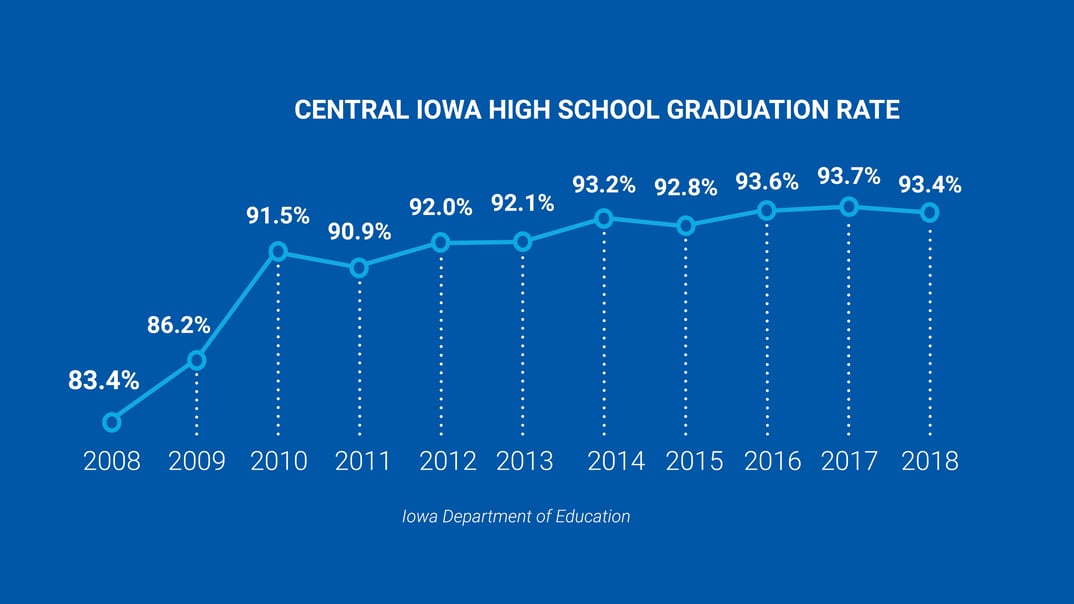 Too many young people in central Iowa do not complete high school on time. Research shows they stand to earn $707,400 less over their working lifetime. When you add the burden of increased social costs attributed to dropping out, every dropout represents a million-dollar problem—and a lesser long-term quality of life for the student.
But a dropout is more than 12 years in the making. Young children who enter kindergarten unprepared can become a third-grader who cannot read. Reading proficiently by the end of third grade is a strong predictor for future school success. A third-grader who cannot read is unable to comprehend classroom content in later grades, making it four times more likely that they become a dropout.
Long-term Goals with Short-term Strategies
In our Community Impact Report, the percentage of central Iowa students graduating high school made a slight decrease from 93.7 percent in the prior year to 93.4 percent in 2018, according to data released by the Iowa Department of Education. We believe it's merely due to population growth, and we feel confident we will continue to move the region closer toward its Goal for 2020 to increase graduation rates to 95 percent.
Over the past year, United Way of Central Iowa continued to focus on long-term strategies, like school readiness and early grade reading, in addition to shifting some resources to more immediate, sort-term strategies. United Way provided funding and formed a coalition of educators and volunteers, and together, created tailored strategies to address specific barriers many students who were just falling short of graduating were facing. So far, we're tracking real impact for them and their futures.

SCHOOL READINESS
Early screenings catch developmental, hearing, and vision issues before they interfere with learning. Children from families with low-income are almost twice as likely to have a reported developmental delay or disability as children from families with higher-income.
The Campaign for Grade-Level Reading
---


MIDDLE SCHOOL SKILL BUILDING
It is vital to focus on building both academic and social skills in middle school (reading, comprehension, fluency, transition from arithmetic to mathematics, and camaraderie).
afterschoolalliance.org
WHERE WE WIN
---

SCHOOL READINESS
1,602 central Iowa children worked with 1,039 volunteer reading mentors to improve reading skills and school readiness through programs like Book Buddy, Power Read, and Real Men Read.

* Iowa Department of Education
---

EARLY-GRADE READING
157,767 books for children have been collected over the past five years and distributed for free to childcare centers, schools, nonprofit programs, and others who serve families in low-income households throughout central Iowa through Stuff the Bus and other book drives.
* Iowa Department of Education
---
OUT-OF-SCHOOL TIME
63% of middle school students in central Iowa participated in at least one out-of-school activity. Since United Way began funding the Community School Coordinator position at Des Moines Public Schools, 5,163 6th-12th graders participated in more than one out-of-school activity, a 30+% increase.
Example Education Programs
READ to SUCCEED is a community-wide awareness campaign to inspire community action to ensure that, by the end of 2020,
90 percent of central Iowa children read proficiently by the end of third grade.
The campaign provides resources for parents and caregivers to help children learn to read, information on how to advocate for summer reading programs and volunteer opportunities for community members.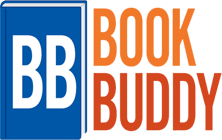 Book Buddy engages Women United members, RSVP 55+ members, and other community volunteers to meet weekly with children in order to increase print literacy skills.
Participating students are introduced to 25 books over the course of the year and will have approximately 50 opportunities to read with a volunteer.
Power Read is a literacy and mentoring program where volunteer reading partners are matched with elementary school students. Using literacy kits developed by a team of experts, volunteers meet their students at their school each week to read a book together and do a skill-building activity. Students benefit from consistent and positive interactions with caring adults. Volunteers benefit from the knowledge that they are making a positive impact on a child's future.
Graduation Walk brings volunteers to the homes of youth who have dropped out or are at risk for dropping out because they are behind in course credits. Over the past five years, Graduation Walk volunteers have visited 3,878 homes, connecting with more than 1,000 students to engage them with school to improve their futures.

United Way of Central Iowa and local businesses collect quality children's books during the annual Stuff the Bus book drive. The books are donated to the central Iowa early childhood centers supported by United Way of Central Iowa Women's United, as well as other nonprofits and home child care providers.