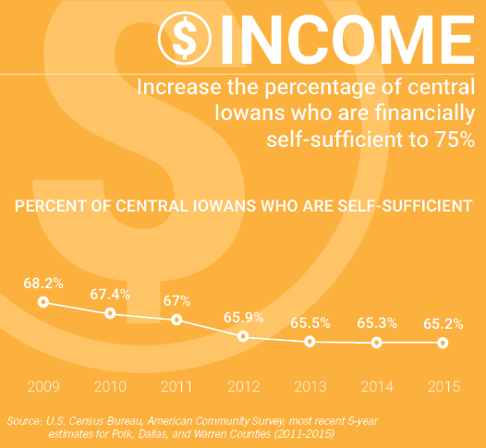 Help adults acquire skills and credentials for better jobs.
---

FOCUS GOALS:
10,000 high school equivalency diplomas will be awareded to central Iowans by 2020.
---

20% of central Iowa adults with no postsecondary education or training will make progress toward an associate's degree by 2020, an increase of 15,000 individuals from 2008.
$700K LIFETIME EARNINGS
An Iowa high school graduate, throughout their career, earns an average of $700,000 more than a high school dropout.
(National Center for Education Statistics; 2016, adjusted for inflation)
---

34.8% of central Iowans are not financially self-sufficient, defined as 250% of the Federal Poverty Level.
(U.S. Census, American Community Survey)

34K central Iowans (18 years+) do not havea high school diploma or equivalency. (U.S. Census, American Community Survey)
---

EMPLOYMENT GAP:

55% of all jobs in central Iowa requires some postsecondary education up to an associates degree, and only 32% of the workforce has the right skills for these jobs.
(Iowa Workforce Development, 2015)

2,000
nonprofits, businesses, and community members support the OpportUNITY Plan to bring prosperity to the one-third of central Iowans who are not financially self-sufficient. Eight issue-focused work groups are creating new opportunities for low-income central Iowans.
---

1,695
central Iowans were placed in better jobs through United Way-funded programs, increasing family incomes.

1,794
individuals received coaching through the Financial Capability Network, which helps low- and
moderate-income central Iowans build their financial knowledge and skills.

1,116
adults enrolled in the United Way-led Bridges to Success initiative to earn a high school equivalency diploma. Bridges to Success uses innovative strategies to help central Iowans on a path to financial self-sufficiency.


$12.5 million
in state funding was secured in 2013 for adult basic
education and post-secondary career pathway training, and this funding has been maintained every year since. United Way advocated for this change with Skills2Compete, a coalition serving as a voice for adult education and workforce training.
145
Volunteer Income Tax Assistance (VITA) volunteers returned
$8.9 million
in tax refunds in 2017.
4,853
families each received an
average refund of
$1,837
through free tax preparation.
Meet Aaron
Aaron had received all of his test scores except one. He waited through the weekend. He worried when he would know. Then, the news came: "You passed!"
Aaron achieved his high school equivalency diploma 17 years after he had dropped out of school to care for his newborn daughter and work full time. With this equivalency diploma, he could now complete his auto restoration certificate and start his own business—a long-time dream.
Helping Aaron achieve his goals was Bridges to Success, a United Way initiative that provides free coaching, instruction, testing, and other supportive services to central Iowa adults working toward their equivalency diploma and a sustainable career pathway.
Aaron especially appreciated having a supportive coach and a cohort of students. "If somebody didn't understand," he said, "everybody was there to try to explain it to the best of their ability and to help that person along."