Running a United Way campaign in your workplace can be challenging, rewarding, and a great way to bond as a team while helping improve lives in central Iowa.
If you are organizing a campaign at your workplace, are working with a team to run a campaign, or are just curious about what it takes to put a campaign together, the best place to start is by contacting your company's United Way Corporate Engagement Manager.
He or she will help make it easy and share best practices, materials, ideas from other, and more. If you don't know your Corporate Engagement Manager, call us at (515) 246-6500 or email campaign@unitedwaydm.org.
Check out our homepage just for employees in workplace campaigns. It's the go-to place to learn more about United Way of Central Iowa and the impact a gift can make. Please share with your co-workers!

United Way Gear
Companies can order directly from the United Way store to get Live United swag and decorations, including:
T-shirts
Signs
Balloons
Bags and hats
Notebooks and pens
And much more!
If you'd like to work directly through United Way of Central Iowa to place a large order, contact your Corporate Engagement Manager.
WLC Brochure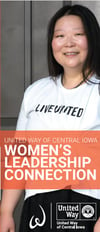 3.6" x 8.5" tri-fold brochure detailing the Women's Leadership Connection, an affinity group supporting strategies to improve school readiness for central Iowa's kids ages 0 to 5.
ELI Brochure
3.6" x 8.5" tri-fold brochure detailing the Education Leadership Initiative, an affinity group supporting strategies to help students through the transition from middle to high school through graduation.
We Live United
An inspirational video sharing how the community comes together to LIVE UNITED.
Stories of Success
Featuring four stories of success from individuals in central Iowa.
View on YouTube
Misty & Malachi
A mother and son touched by tragedy benefit from the services of a United Way-funded child care center
We are WOMEN UNITED
Women United is a diverse, vibrant group bound together by the mission to improve the future of our youngest central Iowans.
Central Iowa HealthWorks
An innovative United Way program training much-needed health care workers
More Stories of Success
Featuring individuals in central Iowa who have benefited from United Way's initiatives.
Carrie's Story
With her son facing mental health challenges, Carrie found the support her family needed.
Blogs and Stories

Click the image above to use these blogs and stories on your social media pages or on your organization's intranet. Just copy and paste the post content and the URL from the Word document. If using in social media, don't forget to tag @UnitedWayCI and include #LiveUnitedDSM.
Nearly 40 posts to choose from throughout your campaign!
Stories in an Image

Use these images for social media or Intranet posts. They are especially perfect for Instagram. Because the text is included on the image itself, there's no need for any further work or explanation on your part. They can also be easily included in emails or newsletters. You can even print them out for posting around the office or other creative ideas!
Just click the image above to download more than 20 story images.
Infographics
Conveniently broken up into smaller pieces, these infographic chunks are perfect for social media or intranet posts. But they can also be used in emails, newsletters, or flyers. Interested in the complete issue-related infographic? These are available for download too.
Health Begins in our Community
Income: Education Pays
Education Pathways
The Child Care Challenge
READ to SUCCEED: Third-Grade Reading

Kick-off Email
Share this customizable email with co-workers on the first day of your United Way campaign. Just click the email icon above, download the .msg file, open, click "Forward" in your email client, change or delete any content you desire, and click "Send."
Remember to replace the highlighted copy with information about your company or delete it altogether.

Campaign Brochure in an Email
Use this if you can only send one email to your organization's employees. It summarizes United Way of Central Iowa's campaign brochure in one appealing email—and includes links to stories, blogs, and our much-loved Community Impact Report.
This email is also useful to send between the kick-off and thank-you emails, or if you don't have a rally where you hand out brochures.
Remember to add your company name to the subject line and replace the highlighted copy with information about how to give.
Presentation Slides

Give your own United Way presentation using these slides, or pick-and-choose your favorites to display on TV, computer, or projector screens throughout the office or during a campaign event.
---
The following documents can be used to help you create emails and letters for your workplace campaign.
DONOR LETTERS / EMAILS (Word Documents)
---
Ask your United Way representative for copies of pledging materials and instructions for completing the forms.