Enroll in FREE High School Equivalency classes today!
Bridges to Success can help you earn your high school equivalency diploma (HSED) and pass the HiSET test, opening up a world of job and career opportunities.

FREE classes, coaching, testing, and books

Convenient times and locations

Your own career coach to help you succeed and plan for your future

Work-ready practical lessons that are useful after the program

I want to learn more about
the program:
You're not alone. 34,000 central Iowans don't have a high school diploma. We can help you earn it!
The Bridges to Success program is simple, smooth, and straightforward. We make earning your HSED as painless as possible.

I earned my HSED!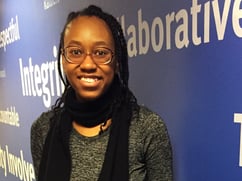 Donna Mitchell, 21, Des Moines
"When I got there, I realized I didn't have anything to be nervous about. The instructors care, they are helpful, and they answer your questions. They make it really easy."
What to expect:

Your coach and your instructors will help prepare you to pass the five HiSET subject tests. Take classes in the subjects you need help with, and qualify out of classes for subjects you already know.
Bridges to Success provides:
A personalized support plan

A flexible schedule to work around your job and family responsibilities

Low-pressure classes with DMACC instructors

Other students to help you study and keep you motivated

Free study materials and testing

1:1 coaching and support services to ensure you meet your goals
Who will help you:
Your career coach is always available to help. You don't even need to ask!
During 1:1 sessions, your coach will advise you on:
How to overcome challenges, such as transportation or child care, and find resources to help

A personalized plan of classes and tests to get you through the program as quickly as possible

Interview tips and tricks

Job opportunities for the present

Career counseling and planning for the future

Continuing education, such as job training or college classes
You can earn your HSED sooner than you think!
What comes after:
Before you earn your HSED, your coach will make sure you are ready to take on the next stage of your life—whether that be a higher-paying job with advancement opportunities or a college education.
Individuals with a high school diploma or equivalency:
Earn $700,000 more during their career than they otherwise would

Are less likely to be unemployed

Are less likely to be in prison

Are less likely to need public assistance

Are less likely to experience poor health

Are more likely to have health insurance

Are more likely to raise children who are healthy and succeed in school
Take the first step on the bridge to the rest of your life.


The Bridges to Success program is a collaboration between United Way of Central Iowa, Des Moines Area Community College.