Standing desk. Treadmill desk. Office yoga. We invent so many ways to keep us active and healthy at work, when a little time spent outside in the sunshine would do us all good—and do good for others.
Seven central Iowa companies have taken on the challenge of providing healthy outdoor exercise for their employees while, at the same time, growing much-needed fresh fruit and vegetables for families in need.
Corporate giving gardens are located on site—often in otherwise unused green space—allowing employees to simply walk out the door, throw on gloves and get to work. In 2015, corporate partners grew and donated 4,601 pounds of produce—enough to provide one day (or five servings) of fruits and vegetables to 1,840 central Iowans. United Way of Central Iowa helped facilitate planning, identify nonprofit partners for distribution and support the companies' volunteer recruitment and recognition efforts.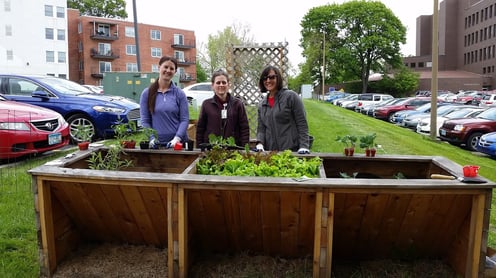 This spring, the volunteers have already begun preparing the soil and planting. On May 18, FBL Financial Group planted beans, radishes, tomatoes, carrots, cucumbers and more at their West Des Moines headquarters. More than 60 employees signed up to help. Last year, FBL grew and donated 1,600 pounds of produce.
"I wanted to do something where I could give back," says Deborah Lyon, an FBL employee volunteer who helped plant the garden. "It's a good way to participate in something I enjoy and help other people."
That help is needed more and more every year. In 2014, 22 percent more Iowa families were served in pantries than the year before. 65,000 central Iowans are food-insecure, and one in five kids don't know where their next meal is coming from.
The need for fresh fruits and vegetables is especially urgent, as many food pantries rarely have access to anything other than nonperishable food.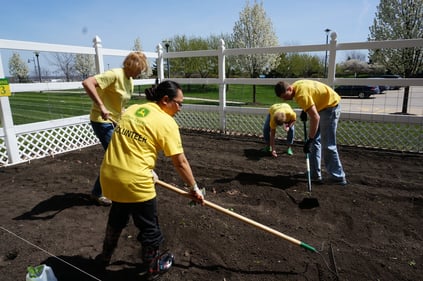 "To really understand the importance of fresh produce to low-income families, you have to imagine yourself in a world in which the only access to fruits and vegetables you have is canned peas and corn. That's the world most low-income families live in. When you actually give them a juicy orange or green peppers or a bright red apple, in that moment it's the most exciting thing they've ever seen," says Rev. Sarai Schnucker Rice, executive director of the Des Moines Area Religious Council (DMARC), one of three nonprofit partners who receive food from the gardens, along with the Food Bank of Iowa and Central Iowa Shelter & Services.
This lack of fresh fruit and vegetables for our most vulnerable is especially tragic in America's heartland. "In Iowa, with our fertile soil and tradition of agriculture, it makes so much sense to utilize the green spaces around homes, churches and, especially, businesses," says Erin Drinnin, community impact officer, health, at United Way of Central Iowa. "In a corporate garden, volunteers can get exercise, interact with co-workers they wouldn't otherwise meet and participate in a therapeutic hobby that reduces stress. But instead of pushing that food on other employees who already have access to produce, companies with giving gardens can provide fresh food to those who most need it. It's a healthy choice for the entire community."
Special Thanks
United Way of Central Iowa would like to thank this year's corporate partners who are committed to giving gardens:
Des Moines University and WesleyLife (shared garden)
FBL Financial Group
GuideOne
John Deere Financial
Telligen
Wells Fargo
If you're interested in starting a giving garden at your business or place of worship, please contact me at sburgess@unitedwaydm.org.
Another Way to Give
Protein is another essential nutrient, especially for kids who are missing out on school meals during summer. Ask your company or place or worship if they would like to participate in the Pack a Protein Picnic Food Drive July 7-21. Local businesses and organizations aim to collect a total of 65,000 items, enough protein for each of the 65,000 food-insecure central Iowans.