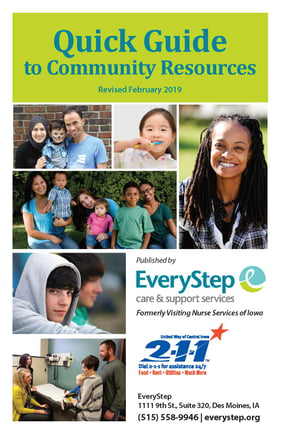 United Way of Central Iowa is helping hard-working families become more financially stable and take the steps to sustainable independence. However, at times families need a hand up.
Through this 2-1-1 Quick Guide to Community Resources, we hope to increase access to life essentials, such as food, shelter, transportation, and other income or work supports but we also hope this will provide individuals and families with a network of resources to advance into long-term financial stability.
There are highly valued resources that support working families throughout our community. These supportive services–that cut across the priority areas of Education, Income and Health are designed to help families bridge the gap in times of economic stress like job loss, unanticipated medical expenses or other factors which interrupt sufficient levels of income.
The 2-1-1 Quick Guide to Community Resources is designed to provide educators, human service professionals, case managers, job developers, faith and neighborhood leaders and many other helping professionals with a directory of community services. We acknowledge the nearly 200 organizations listed in this guide who provide vital services to individuals and families, and we thank them for their work and partnership.